Lazer
Um mundo de aventuras em suas férias
3 years or less
All structure and children's programming.
A special place for your little one to stay safe and have fun in the cool toys world. Get into La Torre Kid's Club is like to dive in an universe full of dolls, carts, riding toys, ball pool and everything that kids love.
Open Daily from 09:00 to 22:00.
Located next to the central pool and food court.
Exclusive for kids under age 03 accompanied by their parents.
From 4 to 12 years
Everybody can have fun here! At Cine Park children watch the animations that have been successful. The programming that lavishes lots of laughs is the ideal time to share many experiences with new friends. And more! With the accompaniment of the leisure monitors, children from 4 to 12 years old participate in various activities in a program full of news that will make the children have a lot of fun during the holidays at La Torre Resort.
From Babys to 3 years
At the La Torre your baby has a special attention and there will be lots of options for these little ones have fun. Beside Kids Club and PlayGround, the Resort offers 06 sorts of pools where kids are able to play along with their parents.
From 04 to 07 years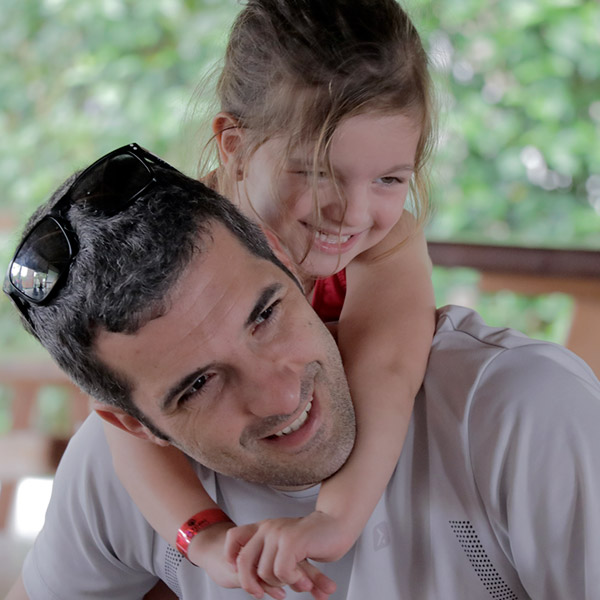 Kids in this age group have many games to enjoy inside the Resort! Water Polo at the pool, flag hunting at the Beach Club, Capoeira lessons, candy hunting in the Resort's gardens and much more playful and entertaining activities.
From 08 to 12 years
Juggling class, "tree climbing", climbing wall and slackline are some of the activities options for this age profile. They love it!
Ambience
At La Torre Resort your child will have a completly structure for fun! There are various games and equipment to let the kids feel at ease in the resort, always accompanied by the leisure team specializing in making the children happy.
Have you booked already? What are you waiting for?
Traduzindo .....